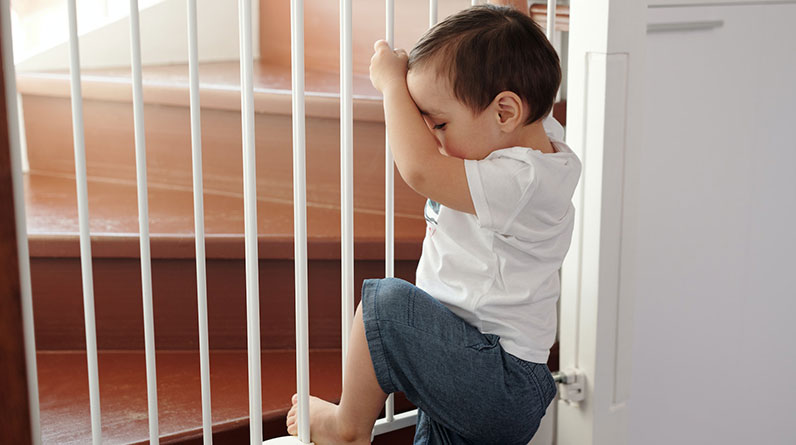 Babyproofing and Safety Considerations
Babyproofing is an important way to prepare your home for a new baby and ensure your little one stays safe. It's important to start as soon as you know you're pregnant and continue throughout your child's early developmental stages.
Babyproofing tasks include securing heavy furniture and sharp edges, installing safety locks on cabinets and drawers, and hiding cables and wires behind furniture. It also means testing your carbon monoxide and smoke detectors.
Remove Unnecessary Furniture
The best way to ensure your living room is a hazard-free zone for your little bundle of joy is to remove the furniture that isn't essential. While you're at it, get creative when it comes to storage and display options. Using multi-purpose trays, nifty containers or even a cleverly disguised box can make your space feel like a repurposed closet rather than a cluttered nanny bedroom.
What's more, a well-designed living room is sure to impress visitors of all ages and tastes. The best way to do this is by keeping your eye out for the best and brightest furniture designs that fit your family's needs while complementing the rest of your space with a few homey classics to complete the look.
There's no shortage of furniture innovations on the market today, so don't be afraid to ask for help from a pro if you're not sure which one to go with. A slick reupholstering, a well-thought-out design scheme, or even a fresh coat of paint can make your living room stand out as the place to be in your neighborhood.
Remove Toxic Houseplants
Houseplants are great for keeping a room looking fresh, but they can also be harmful to children and pets. Poisonous plants can cause vomiting, diarrhea, swollen tongue and eyes, mouth burns, breathing problems, compromised organs, and even death if eaten by children or pets.
If you have a child or pet, there are plenty of safe, non-toxic plants that you can bring into your home. Whether you're looking for air-purifying plants, indoor plant care tips or just want to add some greenery to your living space, there are many great options available.
There are some plants that have been shown to remove toxins from the air, like Boston Fern. This plant has also been shown to remove benzene, formaldehyde, and trichloroethylene from the air.
One of the best ways to keep your house and your baby's room safe is to make sure that any toxic houseplants are removed before you start the babyproofing process. You can do this by placing the plants in a high-up area that is out of reach.
Some plants, such as the Devil's Ivy (Pothos) can be toxic to children and pets if they accidentally eat them. Its oxalate crystals are extremely irritating and can cause mouth burns, swelling of the tongue and lips, and difficulty swallowing.
Alternatively, you can put the plant in a secure spot that is out of reach and cover it with burlap or weed fabric to prevent your kids from grabbing it. Just be sure that you water the plant regularly, otherwise, it will die.
If you're unsure about the toxicity of a particular plant, call the national poison control center. They can help you determine the best course of action for your family.
Anchor Furniture
Whether your child is curious enough to climb up on furniture or is already on the move, anchoring it can help protect them from injury. The CPSC recommends that parents anchor any piece of furniture that can tip over, including TVs and other free-standing appliances.
There are many types of furniture anchors on the market, from mounts to brackets & cables. Most kits consist of two brackets that are screwed into the wall and a strap or cable that connects the two.
This strap can withstand up to 400 pounds of pressure and keep the furniture from moving. Its triple-stitched nylon webbing, heavy-duty metal cleats, and solid wall brackets help to keep the furniture secure and safe.
It is also easy to install and detach, so you can remove the furniture if needed. It comes with a detailed installation manual to help you understand how to use the product.
These straps can be a good option for smaller pieces of furniture in your home, like dressers and desks. These ten anti-tip furniture straps are adjustable and made from tensile nylon 6T material, which makes them very strong and durable.
They also come with instructions and all the hardware you need to anchor the furniture. They are also a bit cheaper than other sets of furniture straps, which is ideal for families on a budget.
Anchoring your furniture to the walls can be a great way to prevent tip-over injuries in your home, as well as earthquakes and windstorms. If you live in an area prone to earthquakes, it's especially important to anchor heavy furniture and other items that can tip over.
Install Non-Slip Rugs
Rugs can be a gorgeous addition to any room, but they can also be a big problem. They can bunch up, get dirty, and move around a lot, making them a safety hazard.
One solution is to buy non-slip rugs. These are made from natural rubber or latex and usually have a felt pad that adds cushion to the rug and a gripping surface on the bottom. They can be purchased in different thicknesses and are available in many sizes.
You can also purchase a rug pad to put under your rugs. These pads are easy to install and keep rugs in place on hard floors. They are available online and in the home furnishings section of large retailers.
Another option is to use silicone caulking. These squeezable tubes can be applied to the back of your rug in a grid pattern. They're available in clear or colored formulas and require a caulking gun for application.
Using non-slip rugs can help prevent children from falling over or slipping on carpeted or tiled areas. They can also provide extra cushion for little ones who may fall while running around.
In addition, you can add non-slip rugs to the stairs in your home to make them less slippery for babies and adults. It's important to remember that staircases are a major danger zone for young children, so you may want to consider installing baby gates on the top and bottom of your stairs.
In addition, you can protect your hardwood floors by using a quality rubber-backed rug. This will reduce wear and tear and protect the floor from scratches. However, be sure to choose a rubber-backed rug that is made from 100% natural rubber.
Lock Doors
If you have an exterior or interior door that needs babyproofing, there are plenty of ways to secure it. There are door knob covers and locks that can keep children out of certain rooms and areas, while also allowing you to quickly open doors in case of an emergency.
A top door lock is an excellent choice for childproofing doors that don't have knobs or handles. It's easy to install, and it locks from both sides.
Another option is to place a washcloth between the door frame and the door, which will make it harder for your kids to open the door without help. This is a great way to prevent pinching their fingers when closing the door, and it's also a good idea for keeping them from trying to climb out of their room in case of an accident.
You can also hang a towel on the top of your door, close to the hinged side. The door should close most of the way, but it should stay ajar enough to prevent pinching their fingers.
This is a great option for preventing your toddler from climbing out of their room, and it can be a handy tool for keeping your little one safe while you aren't there. It is also an excellent babyproofing solution for French or double doors that don't have doorknobs or levers.
This type of baby-proofing device can be installed in just a few minutes, and it works on most standard interior doors that are up to 1 3/8 inches thick. It is also very durable and will last for years to come, and it's extremely affordable.